https://brilliantstarmagazine.org/articles/a-life-of-service
Children's Classes – 

Junior Youth Empowerment Program
Ruhi Study Circles ~ via Zoom

DEVOTIONAL MEETINGS – Zoom gatherings


Prayers in the Park – 5:30 pm – Fridays

Telephone (in case events or weather cancels) 417-864-5412

Phelps Grove Park – east of the pavilion along the path (bring a lawn chair or blankets – we continue to practice safe, social-distancing) – bring a favorite Reading that inspires you, or a Prayer. Bring a friend!

Firesides – Small gatherings could be at a central location providing physical distancing for health & safety – masks required at inside gatherings. https://mailchi.mp/bahaiteachings/rsvp-now-connect-inspire-revive?e=965f7a7846


call 864-5412 – for more information

Or –  https://bahaiteachings.org/events/fireside-chats-with-bahai-teachings

The Call to Unite: Intro to the Baha'i Faith
Sunday, April 11, 2021, 5 pm PST/8 pm EST
This is a time of global devastation–and renewal. How can we heal the grievous wounds of racism and injustice? What are Baha'is doing to put their beliefs into action? Explore how you can be part of the healing with Cynthia Barnes-Slater. https://bahaiteachings.org/fireside-chat/?post-id=70115
Refresh My Spirit: Songs Inspired by the Baha'i Faith
Wednesday, April 14, 2021, 5 pm PST/8 pm EST
Join us for a refreshing evening of music & spirit with Brett Smith, a Toronto-based musician of the band Smith & Dragoman. Brett will share songs inspired by the Baha'i Writings and offer an intro to the Baha'i Faith. https://bahaiteachings.org/fireside-chat/?post-id=70116
Sign language devotional draws participants from two coasts
due to the covid19 virus, large events & Holy Days will be broadcast as an electronic/remote event ~ call to receive a Zoom login-invitation
 417-864-5412
We must accelerate our efforts to remove the stains of prejudice and injustice from the fabric of our society.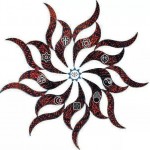 The Baha'i year consists of 19 months of 19 days each (361 days), with the addition of "Intercalary Days" (four in ordinary and five in leap years) between the eighteenth and nineteenth months to adjust the calendar to the solar year. The months are named after the attributes of God.
The Baha'i New Year coincides with the March equinox (March 21). The Baha'i Era commenced with the year of the Bab's declaration (1844 A.D.). Each Baha'i community holds a Nineteen Day Feast on the first day of each Baha'i month. The Feast has spiritual, administrative and social functions and is the principal gathering of Baha'is of a particular locality. Because the Baha'i day lasts from sunset to sunset, the Nineteen Day Feast is generally held in the evening on the day before the first day of the Baha'i month according to the Gregorian calendar.
 The Baha'i Faith has two Founders – the Bab and Baha'u'llah — whose missions complement each other, whose majestic Shrines now stand in the twin cities of Haifa and Akka in northern Israel, and whose birthdays according to the Islamic lunar calendar fell on consecutive days, but according to the Gregorian calendar were celebrated on October 20 and November 12, respectively. With the implementation of the Badi calendar, these days will now be celebrated as twin holy days, one falling immediately after the other.